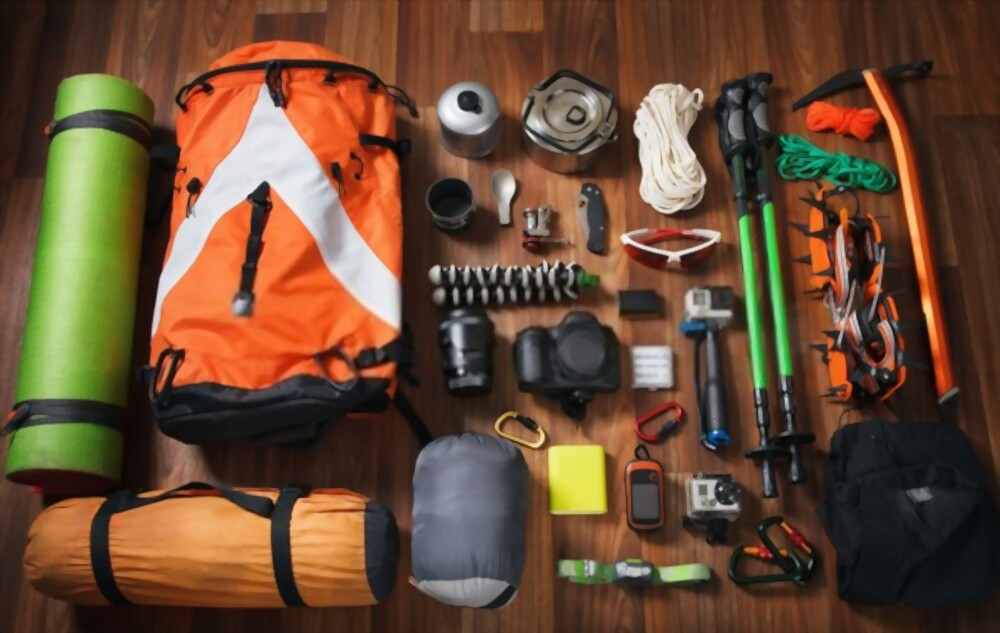 The Requirement of Essentials In Hiking
Outdoor travel is always a fun and refreshing activity. To enjoy it without any difficulties you should carry proper hiking essentials. Regular hikers know about the must-haves for hiking and trekking. However, beginners don't have any idea about it.
As there are various hiking trails in the world. There are a wide variety of hiking trails available in the world to explore. The trails can be rocky, muddy, slippery, snowy, etc.
As a beginner, we forget many things in our everyday lives. I think it's obvious to forget things that affect the preparations for adventure travel.
We had some talks about what hiking essentials to carry on hiking trips with experienced hikers. It's really interesting and would surely add up to your knowledge about hiking and adventure travel.
History of The 10 Hiking Essentials
The 'Ten Essentials' are recommended by hiking organizations for hikers to protect and ensure safe travel in the backcountry. Details about the 'Mountaineers Ten Essentials' list were first introduced in climbing courses of the 1930s.
Later in January 1974, 'Ten Essentials' was published in the third edition of the book 'Mountaineering: The Freedom of the Hills'. You can refer to mountaineers.org if you want to read more about it and other mountaineering books.
What Are Hiking Essentials?
The Hiking essentials for beginners are important from a safety point of view. In the hiking trails, if things go wrong, the hikers should be able to manage and get out of it on their own.
Here are the tips and some especially recommended hiking essentials for beginners to travel through the most difficult trails along with enjoying them.
What are the 10 essentials for backpacking?
The ten hiking essentials for beginners are necessary for hiking, which helps to stay alive on outdoor adventures even on difficult trails.
Moreover, the hikers should carry these hiking essentials whether going for short hikes or multi-day hikes in the backcountry.
I know on shorter hikes, there is no use of all the included gears. But if the situation becomes worse you will need the essentials for survival.
The Mountaineers advise carrying the following at all times while traveling in the wilderness:
The Classic list Of the Ten hiking essentials for Beginners
Navigation: A map, altimeter, compass, GPS device, PLB- Personal locator beacon, extra batteries.
Headlamp: The headlamp with LED bulb and spare batteries.
Sun protection: For the protection of the skin against the Sun, carry sunglasses, sun-protective clothing, and sunscreen.
First aid: A first aid kit, wrapped in waterproof packaging. Include insect repellent.
Knife: The hikers should always carry a multi-tool on short hiking trips. A strong adhesive tape, and cordage on a longer trip. And other small tools may be useful.
Fire: To start and sustain a fire, either a butane lighter or matches, or other equipment to generate fire. Firestarters for igniting even wet wood, and in some areas where no firewood will be available, it is advised to carry a stove.
Shelter: To stay in the woods or mountains a tent is needed. A plastic tube tent, jumbo plastic trash bag, or bivy sack can be used.
Extra food: At least one day's food for a short hike, so that no cooking is required.
Extra water: Carry an adequate amount of drinking water. Learn some skills and tools to purify water.
Extra clothes: The extra pair of clothing and additional items may be needed if spending the night in the emergency shelter.
Updated 10 essentials for hiking
This 10 hiking essentials checklist has been widely accepted and followed by hikers and backpackers worldwide, for nearly 70 years. Along with hiking gear and accessories over the years, the hiking essentials list has evolved.
In 2003, the mountaineers published a new edition of Mountaineering: Freedom of the Hills. The 10 hiking essentials list was updated as per new technology and the modern world.
It covers a wide range of mountaineering and survival techniques for outdoor and adventure travelers and is helpful in exploring the wilderness and enjoying hiking.
Now the modern hiking essentials used by the experienced hikers are here for you:
1. NAVIGATION – Learn to read maps, compass and GPS, PLB (Personal Locator Beacon), and navigation techniques
The Navigation system is very important in hiking to find the right ways along with the trips. When you are in woods, mountains, or any other unknown hiking trails there is a total possibility to get lost. Hikers get lost in dense forests and unknown wild areas.
You should learn to read the maps, compass, GPS, and other outdoor navigation techniques before going out for wild outdoor adventures. The maps and compass are one of the main components of the navigation tool kit.
2. SUN PROTECTION – Protect Yourself
Outdoor adventures are fun but don't forget to keep yourself safe. To protect your skin and eyes against harmful UV rays is necessary.
Wear sun-protective clothing and apply sunscreen on the lips and skin. Sun protection is one of the must-have day backpacking essentials.
3. INSULATION – Keep Extras
Keep an extra pair of clothing, as sudden changes in weather conditions can be trouble. Carry extra clothing like pants, socks, boots, undergarments, sweaters or jackets, hats, mittens, gloves, etc. The additional layers of clothing would be required and help to survive.
4. ILLUMINATION – Flashlight, Lanterns, and Headlamp
In the outdoors mostly no lighting is available. If you get stuck in these places due to any emergency situation, flashlights or headlamps are helpful.
The backpackers around the world advise to always carry a lantern, flashlights, or headlamps on a hike so that you can survive in the dark.
The flashlights are helpful in hiking and camping in wilderness and dangerous places. Carry an extra pack of batteries.
5. FIRST-AID SUPPLIES – First Aid Kit
Hiking and adventure travel is all about unpredictable nature and weather. Be prepared for any medical emergencies and bring some first aid supplies with you. Purchase a good backpacking first aid kit, it has all the required items.
If you know about medicinal things you can make a custom kit as per requirement on the hiking trails. Hiking essentials should include an emergency medicinal guide to deal better with emergency situations.
Most common injuries include blisters, insect bites, sprains, etc which can be cured by essential learnings of first aid. It would be good if you enroll in any wilderness first-aid courses.
6. FIRE – Matches, Lighter, and Fire Starters
Fire is much required hiking essential, not only to cook delicious food but to survive in cold conditions. It is a useful emergency or distress signal. A set of matches and firestarters fulfill the need to ignite anything.
The firestarters like lighter act as a suitable ignition source. They are reliable sources and can be used in any wet or cold conditions. The matches become useless when soaked in water or moist due to humidity in the weather.
Learn about the use of fire and regulations for campfires.
7. REPAIR KIT AND TOOLS – Repairing Equipment/ Basic Tool Kit
The backpacking repair kit is very important while hiking for short or long hikes. The basic kit includes scissors, a Swiss pocket knife, safety pins, and duct tape.
The other tools that can be required in any other situation are multi-tools, sewing kit, utility cord, screwdriver, can opener, etc.
Your backpack and clothing need to be maintained properly, if your backpack or clothes get damaged it causes trouble. For survival during hiking and outdoor travel, a repair kit would be useful.
8. NUTRITION – Healthy Food for Survival
Nutrition plays a vital role in improving the health and fitness of an individual. Eat a healthy and balanced diet to help your body survive in worse living conditions.
You need to prepare your body to hike in wild forests, mountains, and deserts for hours. Always carry extra food to avoid any illness.
Low blood sugar levels in the body cause dizziness, hunger, weakness, and in severe cases loss of consciousness. Bring some healthy snacks full of carbohydrates, protein, and fat.
Nuts, energy bars, dried or frozen fruits, and veggies are great to carry. It keeps your energy levels high during outdoor activities.
9. HYDRATION – Water and Water Treatment Supplies
In outdoor adventures staying hydrated is most important. Due to physical activity, exertion increases and causes dehydration. It affects the balance of water and electrolytes present in the human body.
According to the hikers, you should drink half a liter of water per hour at moderate temperatures. It would help to replenish the loss of water and electrolyte in the body.
While hiking in hot weather you can increase the frequency of the intake of water and fluids. I recommend developing a healthy habit of long-term hydration for life, it will help you while hiking.
Look for water sources near the hiking destination so that you could collect the water. Don't drink the water directly, treat the water with any water purifier or treatment supplies.
10. EMERGENCY SHELTER – A Tent/Space Blanket/Sleep Bag
In the wilderness, shelter becomes necessary backpacking travel essential in emergency survival situations. It protects you from rain, heavy winds, cyclones, snowfall, or any other bad weather conditions.
For day hikes, if you need to spend the night in the mountains due to any emergency conditions then it would be essential. A good shelter can be built up with an ultralight tarp or tent, a lightweight survival blanket, rope, and a large trash bag.
There are various types of shelters available in the market like a bivy bag or bivouac sack and super lightweight bothy. On a night camping trip, it's compulsory to pack a tent or a sleeping bag. The shelter is one of the important overnight hiking essentials.
Conclusion
The 10 hiking essentials explained above will surely help you in your next outdoor adventure. Keep the points in mind and follow the hiking essentials for beginners.
Share your hiking experiences in the comments and let's help other hikers. You can share your hiking checklist for beginners.
If you have any queries regarding hiking and outdoor travel, you can write to us freely about it. Keep checking our latest blogs about hiking and outdoor adventures.